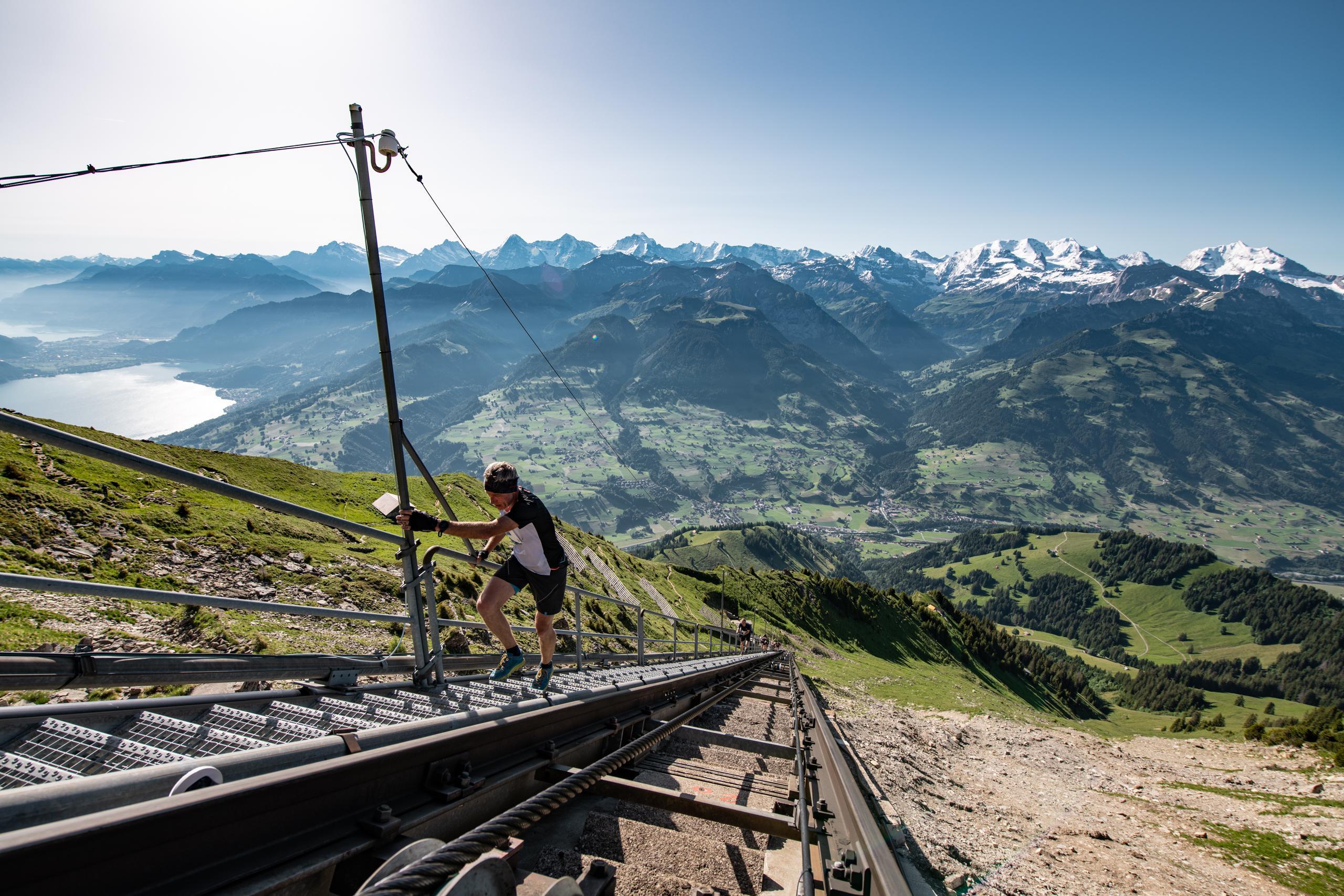 11'674 steps
The longest stairway in the world
20th Niesen-Stairway-Run
9 | 10 June 2023
Ranking List Individual and Relay
Under this link you will find all the rankings:
Brunch & funicular rides for spectators
At 6.15 and 6.45 a.m. two trains for spectators (accompanying runners) will go up the mountain. These can be booked in combination with brunch (from 7.00 to 9.30 am) – click here to book.
The stair race will be broadcast via live tracking and can be followed during the brunch.
If spectators also want to participate in the athletes' buffet (Saturday noon), this can be obtained directly at the Berghaus.
Registrations relay race
The registration for the relay race can be done normally (without raffle).
The lottery registration for the individual run is over (no more registration possible). All registered participants have been informed by email about the further procedure.
Oberland Cup 2023 (3 of 4 runs) – more Infos about the Oberland Cup below down.
Benefit: Guaranteed starting place at the Niesen-Stairway-Run (contingent of 100 places for the Oberland Cup – 20 still available)
Important: Participants must be fit and trained. In the programmes for the relay and the individual run, the last passing times/time limits are listed. Anyone who cannot meet these will be withdrawn from the race.
Infos Stairway-Run 2023
The team-relay will take place on Friday, 9 June and the individual run on Saturday, 10 June.
Sponsors Niesen-Stairway-Run
We thank all sponsors for their support and cooperation. Without you, this event would not be possible.
Oberland Cup 2023
The four running events Mountainrun Grindelwald (new in 2023), Niesen-Stairway-Run Wengen Evening Run and Vogellisi Mountain Run have merged to form the Oberland Cup.
Registration Oberland Cup 2023
A contingent of 100 starting places for the Niesen-Stairway-Run (single run) will be released for the Oberland Cup (registration is required for at least 2 further runs).
How does the Oberland Cup work?
Those who take part in at least 3 of the 4 runs are automatically considered for the Cup ranking.
Advantages and attractive prizes
The Oberland Cup is an exciting combination of 4 different races in the Bernese Oberland – The advantages of participating in the Oberland Cup:
15% discount on the entry fee (registration until 30 April 2023)
Raffle of attractive prizes among all participants*
Attractive prizes for 1st to 3rd place (women and men)
Valuation and comparison over several, different runs
*For the prize draw, participants must be present at the prize-giving ceremony of the last race (2023: Vogellisi Mountain Run). No prizes will be sent out.
Calendar 2023
Participant photos 2023
The right souvenir photo for the Niesen-Stairwy-Run 2023 is provided. Sportograf is the sports photographer for the personal participant photos.
Important: The photographers from Sportograf will only be present at the individual run on Saturday.
Information on data protection (click here) (only in German)
Past Niesen-Stairway-Runs
Pictures: Rob Lewis Photography